Opioid Epidemic and How We Are Helping to Prevent It
The American Dental Association (ADA) recently announced a new policy on opioids, supporting mandates on prescription limits and continuing education in what could be the first of its kind among major health care professional organizations. As a longtime member of the ADA, Innovative Implant and Oral Surgery is committed to this effort, and we are hopeful that it will prevent many tragic deaths by overdose in the future.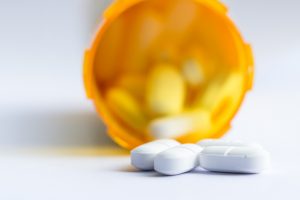 What Innovative Oral Surgery Is Doing to Combat the Opioid Epidemic
Innovative Oral Surgery is involved in the mandated prescription drug monitoring program. Through this program we are given access to patients' prescription histories, which helps to avoid over-prescription of narcotics and helps identify those patients who may be seeking drugs. We have taken opioid continuing education courses to help learn about opioids and addiction, as well as alternative pain medicines that can be utilized. We have also significantly decreased the amount of narcotics we prescribe and are advocating for the use of OTC pain medicine.
Our patients have had great results and a comfortable post-operative course with this new medication regimen. We are also actively educating our patients about the opioid abuse issue in our country, as well as the addictive potential of these medications.
Opioid Crisis in the U.S.: Some Background
In the late 1990s, drug companies reassured the medical community that patients would not become addicted to opioid pain relievers and healthcare providers began to prescribe them at greater rates. Increased prescription of opioid medications led to widespread misuse of both prescription and non-prescription opioids (such as heroin) before it became apparent that these drugs could be highly addictive.
In 2017, the Department of Health and Human Services declared a public health emergency and announced a 5-Point Strategy To Combat the Opioid Crisis. The HHS provides this infographic on its website to illustrate the enormity of the problem: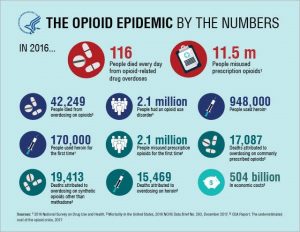 How to Prevent Opioid Abuse
The new ADA policy states:
The ADA supports mandatory continuing education in prescribing opioids and other controlled substances.
The ADA supports statutory limits on opioid dosage and duration of no more than seven days for the treatment of acute pain, consistent with the Centers for Disease Control and Prevention evidence-based guidelines.
The ADA supports dentists registering with and utilizing Prescription Drug Monitoring Programs (PDMPs) to promote the appropriate use of opioids and deter misuse and abuse.
"As president of the ADA, I call upon dentists everywhere to double down on their efforts to prevent opioids from harming our patients and their families," said ADA President Joseph P. Crowley, D.D.S. "This new policy demonstrates ADA's firm commitment to help fight the country's opioid epidemic while continuing to help patients manage dental pain."
Most opioids prescribed to patients in the U.S. are written by physicians and other medical professionals for management of chronic (long-term) pain. Dentists with an appropriate license may also prescribe opioids, and do so most often for management of acute (short-term) pain such as severe tooth decay, extraction of teeth and root canals. In 1998, dentists were the top specialty prescribers of opioid pain relievers, accounting for 15.5 percent of all opioid prescriptions in the U.S. By 2012, this number had fallen to 6.4 percent.
Philadelphia had the second-highest rate of drug overdose deaths in 2016 among the nation's 44 counties with over 1 million residents: 46 per 100,000 residents, with most attributed to the misuse of opioids. Only Allegheny County, which includes the city of Pittsburgh, had a higher rate, according to a study published by Pew Trusts.
Innovative Implant and Oral Surgery, based in Feasterville, Pennsylvania, has provided personalized, patient-centered care to residents living in the Greater Philadelphia area for more than 40 years. We are proud to do our part to help eradicate the opioid epidemic in our Pennsylvania communities.
For more information on how the ADA is working to combat opioid abuse, visit www.ADA.org/opioids.