Jordan Fried, DMD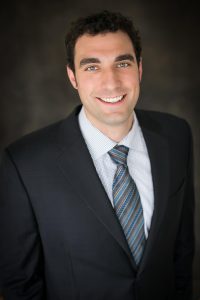 Chief Resident: Oral and Maxillofacial Surgery, St. Joseph's Regional Medical Center, Patterson NJ
DMD: Temple University, Kornberg School of Dentistry, Philadelphia PA
BA: Psychology, Franklin and Marshall College, Lancaster PA
Member: American Association of Oral and Maxillofacial Surgery, Pennsylvania Society of Oral and Maxillofacial Surgery,  Delaware Valley Society of Oral and Maxillofacial Surgery
Dr. Fried resides in Philadelphia with his wife, Emily, son, Sam, and daughter, Natalie.  When he is not in the office, you can find him running along the Schuylkill River, golfing with friends and exploring the City of Brotherly Love with his family.
Dr. Fried, in his own words…
"I grew up in a family of builders so I naturally gravitated towards working with my hands.  Although the building was in my blood, health care was in my heart.  I love collaborating with my patients to help them solve their oral healthcare needs. Too often, patients come into the office anxious and in pain.  It is so rewarding to have the tools to alleviate their anxiety and discomfort, all while restoring their smiles and helping them feel proud of who they are."
To learn more about Dr. Fried, or to schedule an appointment, call 215-322-7810. You can also schedule an appointment using our easy online form.