Charles B. Nissman, DDS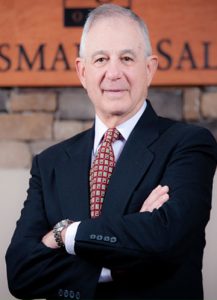 Diplomate: American Board of Oral and Maxillofacial Surgeons, National Dental Board of Anesthesiology
Fellow: American Association of Oral and Maxillofacial Surgery
Residency: Oral and Maxillofacial Surgery, Mt. Sinai Hospital, New York City, NY
DDS: Temple University, School of Dentistry, Philadelphia, PA
BA: Temple University, Philadelphia, PA
Board Member: Delaware Valley Society of Oral and Maxillofacial Surgery, Pennsylvania Society of Oral and Maxillofacial Surgery
Dr. Nissman was born and raised in Philadelphia. After graduation from dental school, he entered the United States Army Dental Corps as a Captain. He served from 1970 to 1972 at Ft. Gordon in Augusta, Georgia. After military service, Dr. Nissman completed his oral and maxillofacial surgery residency and moved back to Philadelphia to start his own practice.
Dr. Nissman, in his own words…
"Over the decades that I've worked as an oral and maxillofacial surgeon, the aspect that I've most enjoyed is communication with patients and their family dentist. Patients are often frightened of the dentist, and giving them options to relieve their discomfort gives me great satisfaction."
Congratulations to Dr. Charles B. Nissman on his retirement!
After 41 years in practice, Dr. Nissman has defined what exceptional oral and maxillofacial surgery is in the local community. We are honored and privileged to have worked with him in his efforts to proved personalized patient care. The team at Innovative Implant and Oral Surgery is dedicated to continuing Dr. Nissman's legacy, learn more about Drs. Salin, Weiner, and Fried here.